Slate-clad Fontanile Pool frames views of the Italian countryside from the garden of an old villa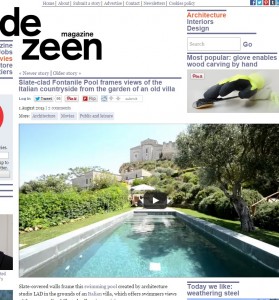 Slate-covered walls frame this swimming pool created by architecture studio LAD in the grounds of an Italian villa, which offers swimmers views of the surrounding hills and valleys (+ movie).
Rome-based LAD – short for Laboratorio di Architettura e Design – designed the Fontanile Pool for the owner of a villa that sits below the old city walls of the Italian city Tarquinia, around 55 miles north of the capital
Designed for swimming lengths, the long and narrow pool is dug into a lawn to the rear of the house. Slate panels cover both the insides and outside of the structure, as well as a slip that allows water to flow over one end in the style of an infinity pool.
The architects selected the grey stone for the blue-green tinge it gives the water, helping it to harmonise with the lawn.
A teak sun deck sits to one end. Steps lead down from the decking into the pool, where the open end faces the rolling countryside below the fortified city.
"The Fontanile Pool is designed to be a machine for observing the landscape," explained architects Francesco Napolitano and Matteo Bianchi.
"Two stone walls are framing the nature around, isolating a single point of view, like an optical device. These elements link together three open air spaces: landscape, pool, deck."
"The project aims to create a space in harmony with nature and artifice, with the countryside and the city, allowing for contemplation of the landscape," they told Dezeen.
"The shape and the proportions of this work remind you of the old country fountains of the surroundings."
The client approached the architects after reading an article about their previously completed Villae Minimae project – a collection of five dwellings conceived as optical devices, balanced on rocks, in fields and on cliff sides to frame particular views of the landscape. He asked them to design the pool with the same concept.
"As everybody knows, Modern architects thought that houses were machines for living," said the architects, referencing the famous quote by early 20th-century architect Le Corbusier.
"With the Villae Minimae we ironically played with this idea and tried to re-think a house as a machine for observing the landscape, without overlooking the functionality of the spaces."
"The Fontanile is not a house of course, but anyhow it works like an optical device – it suggests you a single point of view, the direction where the sun is setting in summer," they said. "It works like a visual joint between the observer, the city and the countryside."
LINK : http://www.dezeen.com/2015/08/01/lad-laboratorio-di-architettura-e-design-fontanile-pool-old-villa-italy/#disqus_thread