ARCHDAILY
OLGIATA SPORTING CLUB / LAD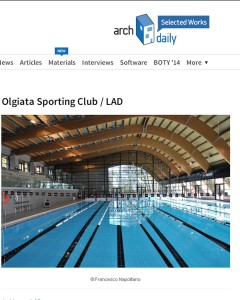 link: http://www.archdaily.com/469427/olgiata-sporting-club-lad/
download PDF: Olgiata Sporting Club _ LAD _ ArchDaily
Architects:  LAD
Location: Via Antonio Conti, 00123 Rome, Italy
Architect In Charge: Francesco Napolitano
Design Team: Michelangelo Sabuzi Giuliani, Maria Carla Lini, Marcello Amalfitano
Interior Design: Simone Lanaro
Area: 7500.0 sqm
Year: 2010
Photographs: Francesco Napolitano, Cornelia Suhan
Civil Engineers: Teico
Wooden Structures: Holzbau
Roof: Rheinzink
Client: Olgiata Verde s.r.l.
Program: 7.500 M² Indoor (Gyms + Swimming Pool) + 80000 M² Outdoor
Sport Manager: Oligiata 20.12 Sport Club
From the architect. The Olgiata Sporting Club is located inside the woods of a garden city at the border of Rome, Italy
The building is made up of three different pavilions connected to each other. The central one is the administrative center and contains the entrance, where the main staircase and the connections are. Through it the visitor can access the locker rooms at the lower level and then the two pavilions.
South pavilion contains gyms, North pavilion contains swimming pools. The paths to reach the different areas are strictly separated.
Outdoor space accomodates football fields, tennis courts and a beach-volley court.
The boomerang shaped beams are made up of glulam, designed and produced by Holzbau in Italy.
The roof is in zink-titanium, produced by Rheinzink.