BAILEY BRIDGE ROME: CONCRETE PYLONS COMPETITION
Rome Bridge, Italy – design by LAD – Laboratorio di Architettura e Design.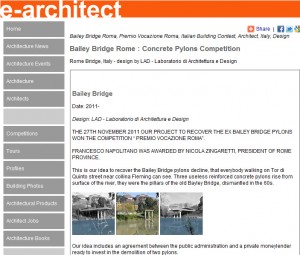 Bailey Bridge
Date: 2011-
Design: LAD – Laboratorio di Architettura e Design
THE 27TH NOVEMBER 2011 OUR PROJECT TO RECOVER THE EX BAILEY BRIDGE PYLONS WON THE COMPETITION " PREMIO VOCAZIONE ROMA".
FRANCESCO NAPOLITANO WAS AWARDED BY NICOLA ZINGARETTI, PRESIDENT OF ROME PROVINCE.
This is our idea to recover the Bailey Bridge pylons decline, that everybody walking on Tor di Quinto street near collina Fleming can see. Three useless reinforced concrete pylons rise from surface of the river, they were the pillars of the old Bayley Bridge, dismantled in the 60s.
Our idea includes an agreement between the public administration and a private moneylender ready to invest in the demolition of two pylons.